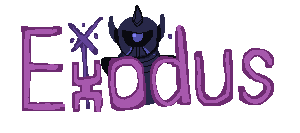 Exodus
A downloadable game for Windows and macOS
Living long, we are getting tired of continuously repairing ourselves with these junk parts that only serve as short-term life support. And we refuse to transform ourselves into the new models. They would all serve the higher administrations of the Exodious facility. At this rate, we can't hope to survive past the next screening. We have to get out. But first, we need to escape the slums.
Though we kept wondering, what do we have to gain for surviving when at the end of it all, we're just going to die anyways?
Features:
- Simple turn-based battles with survival conditions. Your health deteriorates over time. And your resources are limited. The luxury of healing stations are non-existent, due to only the higher class earning that privilege.
- ATOM bots are constantly on the hunt for you. Defeat them and ensure you can survive.
Extra Screenshots: